Milton, QLD – To ensure the safety of all road users, vehicles need to be regularly serviced and checked for roadworthiness. SAB | Mobile Roadworthy Certificate | Brisbane offers same-day mobile services to conduct pre-purchase inspections and provide mobile roadworthy certification and SAB safety certificates. Clients can get an instant quote and book online for their assessment with just a few clicks. The company is committed to providing convenient and affordable services to its clients. With SAB | Mobile Roadworthy Certificate | Brisbane, there is no need for a client to take time out of their busy schedule to bring their car in for a safety check. Instead, the vehicle inspection company will come to them.
"Purchasing a used car is a big investment," said the company representative. "You want to be sure that the vehicle is safe and roadworthy before making such a commitment."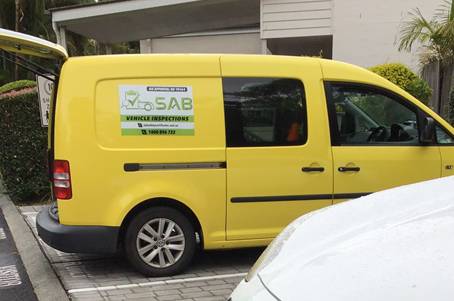 Several reasons make it necessary to have a roadworthy certificate for a vehicle in Queensland. If a car is being sold, the new owner must provide a roadworthy certificate to register the vehicle in their name. It is also required when renewing or transferring registration from another state. If a vehicle fails an inspection by a police officer or authorised inspector, the owner will be issued a defect notice. The vehicle must then be repaired and brought up to the required standard before it can be driven again on the road. SAB | Mobile Roadworthy Certificate | Brisbane can help eliminate the hassle of getting a safety certificate. Their mobile service enhances convenience in acquiring a safety certificate.
A second-hand vehicle has some obvious benefits over buying a brand-new one. Used cars are usually more affordable, and the depreciation value is not as high. However, buying a used car comes with the risk of inheriting someone else's problems. To avoid buyer's remorse, it is essential to have a pre-purchase car inspection conducted by a professional. This will help ensure the vehicle is in good condition and identify potential issues. SAB | Mobile Roadworthy Certificate | Brisbane offers pre-purchase car inspections. Their qualified inspectors will check the vehicle inside and out, from the engine to the electrics. They will then provide a detailed report with their findings and advise on what repairs or maintenance may be required.
SAB | Mobile Roadworthy Certificate | Brisbane offers full safety certificates covering basic vehicle safety standards. This includes checking tyres and wheels, brakes, suspension, steering, seatbelts, and more. Their inspectors will ensure that their client's vehicle meets all the required safety standards.
SAB | Mobile Roadworthy Certificate | Brisbane is located at level 1 16 McDougall St, Milton, QLD, 4064, AU. Clients can also contact the vehicle inspection company at 1800 896 722. Visit the website for more information.
Media Contact

Company Name
SAB | Mobile Roadworthy Certificate | Brisbane
Contact Name
Hamish
Phone
1800896722
Address
Level 1 16 McDougall St
City
Milton
State
QLD
Postal Code
4064
Country
Australia
Website
https://www.sabsafetycertificates.com.au/