AIE Fire Protection is proud to announce its 40-year Anniversary. Since 1983, the St. Louis-based, family-owned company has been supporting nationwide major-brand, multibillion-dollar, and multi-location companies in all phases of fire safety and water services. "To have a family-owned business succeed for forty years, come what may, is quite an accomplishment and one we plan to continue," says Sue Warmann, Owner and CEO of AIE. 
The seed for AIE was planted while Robert (Bob) Warmann worked for an insurance company. He was approached by a client who needed help making fire protection decisions that benefitted the client rather than the insurance company. Warmann saw an opportunity to help companies make small changes that would lower insurance costs, so he left the insurance industry and started AIE. 
In 1998, when Mr. Warmann passed away, Mrs. Warmann continued the legacy of her husband's vision. Now AIE is one of the largest, most-established Women's Business Enterprise National Council (WBENC) fire protection companies in the country, and both Sue Warmann and her daughter, President and Fire Protection Engineer, Kati Smith, have been recognized as Top Women in Business by various local, national, and global organizations. 
A Few Words from AIE's President & Team
Smith shares how she feels about hitting such a big milestone. "I can't believe it's been forty years. It's gratifying to see a business my dad built from the basement of our home, with all of us kids helping with filing and paperwork, have such longevity. My mom, siblings, and I, and our whole team value our clients and take what we do very seriously. Protecting every employee and patron of a business from fire and emergency situations is a huge responsibility."
When asked about staying strong throughout economic turmoil, Smith said, "It's easy to stay in business when things are going well. It's the hard years that make you feel you've succeeded. During the 2008 recession and the pandemic, three things kept us going — Dad's mission, our amazing team, and the need for what we offer."
She adds, "It's also a good feeling to know we've contributed to the economy and people's livelihoods by keeping businesses compliant so they can remain open, and commissioning reputable, reliable contractors around the country to service our clients."
Wayne Doherty, VP of Strategic Accounts, came to the company with a Fire Science and Administration degree, 32 years in the fire department, retiring as Fire Chief, and experience as a Walmart Compliance Director, says he loves the people he works with and the family environment. "The owner and president give me the freedom to think outside the box and are always open to new ideas for growth. I had worked with AIE previously on contracts and knew I wanted to be on their team due to the commitment, dedication, and ownership each individual presented. Having a team like that makes you a better team player and drives you to get up and make a difference each day for everyone."
Forty Years of Stopping Fire Before It Spreads
What began as a home-based St. Louis business with an altruistic mission is now, forty years later, a nationwide, family-owned and run fire protection company with the same convictions – excellence in customer care and service and stopping fire before it spreads. 
AIE's team of engineers and fire safety experts, who have hundreds of years of combined experience, are excited to celebrate this milestone. "I've never wanted to do anything else. I started helping my dad in middle school and have never looked back. It's been wonderful. It's the personal touch, attention to detail, and the small company feel that keeps our long-term clients, some more than 28 years, partnering with us for their fire safety," says Smith. 
To learn more about AIE's coast-to-coast fire protection solutions, visit the website or contact AIE today.
Media Contact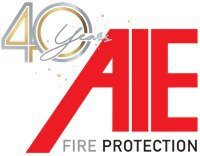 Company Name
AIE Fire Protection
Contact Name
Kristin Sadler
Phone
800-892-9863
Address
1314 Highway DD
City
Defiance
State
MO
Postal Code
63341
Country
United States
Website
https://aiefire.com/